I never thought I'd start collecting coins. But then in 2016 the Royal Mint made a Peter Rabbit coin, and finally working in retail had another perk! Our coin hunt started when we heard they were releasing a lot of other Beatrix Potter coins, some were harder to get than others, especially when people started collecting them to make money on ebay!
Here are my coins:
Originally I only collected the Beatrix Potter 50ps but then I saw the library 50p (bottom of the picture). I started collecting all the literary ones after I found the Dickens coin, which is the first one in this picture, and the Shakespeare £2 coins (top of the picture). The scruffy one in the middle (need to clean it!) is celebrating Robert Burns. I do have some history ones too and the last coin in this picture is an Issac Newton coin, it's just a lovely design and I had to keep it.
I'm not a coin collector really, I only keep those I like the look of. The coin I really want is the Jane Austen £2 coin, but I think it's either very rare or it's hard to get because of people selling them and not spending them. I've been a Austen fan for years (I was so happy when I found out she was going to be on our £10 notes, don't save those though, they get spent!)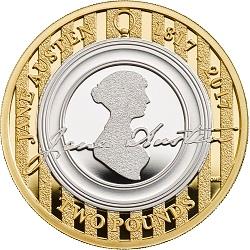 It's such a lovely coin! There's more Beatrix Potter coins than I have collected, as time went on these coins got harder to find. First of all in 2016 they were everywhere but then they disapeared, I rarely see any of these coins anymore.
You can find more about this coin and all the other new Beatrix Potter coins they have released and will be releasing on the Royal Mint website you can buy the coins but they can retail up to £10 for a £2 coin, I think it's more exciting if you find one in your change.
Do you collect coins?