I heard a lot about this book on social media, which made me want to read it more. I've only read one other book by Matt Haig so far: The Radley's, which is a funny story about a family of vampires. It's an original vampire story, much like How To Stop Time is original, Matt Haig is one of those writers who you can't say is like any other writer. His ideas and words are original and fresh and you know you are going to get a good story when you pick up one of his books.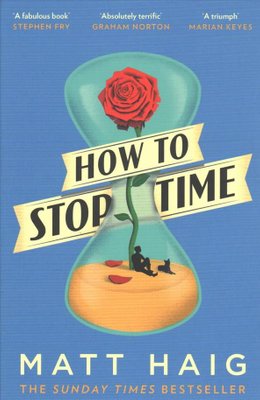 Synopsis from Wordery:
"Tom Hazard has a dangerous secret. He may look like an ordinary 41-year-old history teacher, but he's been alive for centuries. From Elizabethan England to Jazz-Age Paris, from New York to the South Seas, Tom has seen it all. As long as he keeps changing his identity he can keep one step ahead of his past – and stay alive. The only thing he must not do is fall in love . . ."
My Review
Who doesn't wish that they could be young and live forever? Since reading books about vampires I have been convinced that I would not like to, not unless my loved ones could also. Tom Hazard suffers with a condition which makes him age slower than normal humans and he has seen so much and been through so much.
His story is amazing, we're told it in his voice dipping back and for through time. We're told so much in such a small space of time. In the present he's started a new life and is a school teacher, returning to London which brings back memories of his life and love from the time he lived there before.
This book is an effortless read, one you could sit down and read at once it is impossible to stop reading it. Once it's over you wish there was more, although the story is told with no loose ends it's a character you could happily read more about and learn more about his life. Matt Haig's writing is exquisite, with sentences that have so much truth in them, pearls of wisdom:
"If only we could stop time…. That's what we need to work on. You know, for when a moment of happiness floats along. We could swing our net and catch it like a butterfly, and have that moment for ever."
"This is so often the way with life. You spend so much time waiting for something-a person, a feeling, a piece of information – that you can't quite absorb it when it is in front of you. The hole is so used to being a hole it doesn't know how to close itself.'"
"But the thing is: you cannot know the future. You look at the news and it looks terrifying. But you can never be sure. That is the whole thing with the future. You don't know. At some point you have to accept that you don't know. You have to stop flicking ahead and just concentrate on the page you are on."
That last quote is the basic principle of mindfulness, being in the here and now rather than worrying about the future or dwelling on the past or wishing your life away because you can't wait for something to happen.
I'd love to reread this book just to find more quotes like these and also to read more by Matt Haig as this book was uplifting in the end and speaks to everyone.
Did you enjoy this book? Share your favourite quotes.