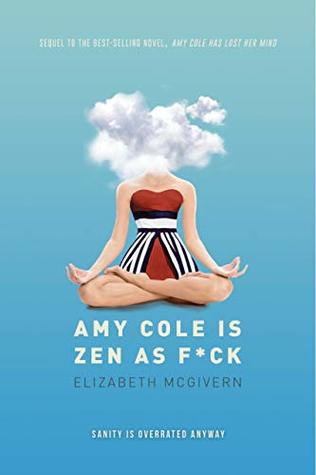 This is the second Amy Cole book and I've been looking forward to reading it ever since I finished the first one, you can find my review for Amy Cole Has Lost Her Mind here. 
I had a copy of this ebook for review from the author, because I was part of the blog tour for the first.
Synopsis from GoodReads:
"It's been almost two years since Amy Cole walked through the door of her therapist's office and now she's ready to emerge as the sane, zen-like woman she has always wanted to be. Unfortunately for Amy, life has the nasty habit of not playing along.
There's no time for a quiet life with a business to run, family life to balance and a newly-single best friend to keep an eye on.From getting embroiled in a feud with a maniacal diet guru, making sure Elle isn't murdered by strangers from the internet and dealing with the mother-in-law from hell, mayhem always seems to find a way into Amy's life.
Elle De Bruyn is on the cusp of finalising her divorce and is ready to jump, head-first, into dating once again. She soon learns that finding love in the 21st century is a tricky business. She lives in hope that somewhere in between the liars, cheats and unsolicited dick pics there's still a chance for one more great love affair.
With life in a constant state of chaos, it doesn't take long for Amy to realise that therapy was the easy part and now it's time for the real work to begin.
Is sanity really all it's cracked up to be?"
My thoughts
I loved reading about Amy and her escapades in the first book and couldn't wait to get my hands on this book. She still manages to get herself into some scrapes and every time she tries to get things on the right track things tend to go wrong… but hey that's life!
The messes she gets herself into! Only Amy Cole could manage it! She's so funny. 
This book made me burst out laughing a few times. But it's also a book about love, friendship and has some serious issues like Amy's mental health.  I like how even though there are serious issues in the book it's still lighthearted.
It's a riveting read. Reading this book is like catching up with old friends, I love the characters and can't wait to read the next book to find out what Amy and her friends will get up to next. The next book is called Amy Cole Has It All Figured Out and is due to be released this year.
If you want something lighthearted with realistic characters this book is for you 🙂
About the author
Elizabeth McGivern is a former journalist turned hostage-in-her-own-home surrounded by three men and a horrible dog named Dougal.
In an effort to keep her sanity she decided to write a parenting blog after the birth of her first son so she can pinpoint the exact moment she failed as a mother.
In an unexpected turn of events, the blog helped her to find a voice and connect with parents in similar situations; namely those who were struggling with mental health issues and parenting. It was because of this encouragement – and wanting to avoid her children as much as possible – her debut novel, Amy Cole has lost her mind, was born.
Elizabeth lives in Northern Ireland although wishes she could relocate to Iceland on a daily basis. To witness her regular failings as a parent you can find her on:
Facebook – https://www.facebook.com/mayhemandbeyond
Twitter – https://twitter.com/MayhemBeyond
Instagram – https://www.instagram.com/mayhemandbeyond/
Picture credited to Jess Lowe